Power, control and signalling - Low smoke zero halogen
Marcatura
<meters> CE 0987 SPECIALCAVI BALDASSARI XSLCH-J <formation> IEC 60332-3-24 <lot> <year> CCA-S1A,D0,A1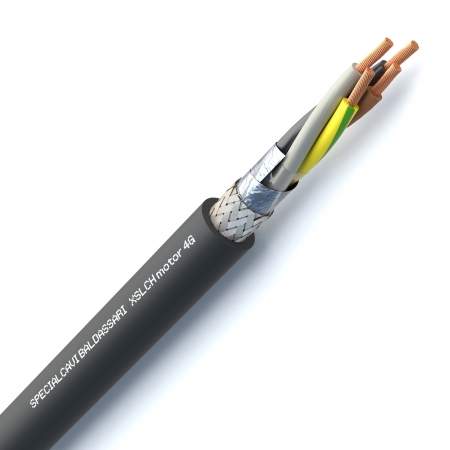 Manufacturing characteristics
Core
Flexible bare copper conductor, class 5
Insulation
Cross-linked LSZH compound
Stranding
Cores stranded in concentric layers
Screen
1st screen: Overall aluminium/polyester tape
2nd screen: Overall tinned copper braid
Outer sheath
LSZH thermoplastic compound
Colours
Cores identification:
Brown + Black + Grey + Green/Yellow
Outer sheath colour:
Black (based on RAL 9005)
Electrical characteristics
Tensione di esercizio anime
Tensione di esercizio guaina esterna
Certifications



Standard
IEC 60228
IEC 60332-3-24 Cat.C
EN 50363
Reaction to Fire Class
EN 50575:2016 Cca - s1a, d0, a1
Temperatura minima di esercizio
• Fixed laying -40°C • Occasional mobile laying w/o stress -5°C
Temperatura massima di esercizio
• Fixed laying +90°C • Occasional mobile laying w/o stress +90°C
Temperatura massima cortocircuito
On request
• Customized cores identification/outer sheath colour
Laying conditions
Minimum installation temperature -5°C

Laying operation bending radius: see technical data sheet
Max tensile stress: see tecnica data sheet

Fixed Laying

Posa mobile occasionale aciclica senza stress

In open air
In duct or cable tray

In buried trough

Buried with protection

In buried duct

Directly buried

The cable stored outside must be protected from UV rays
Applications
Cable conforms to the requirements in the Construction Products Regulations (CPR EU 305/11), aimed at limiting the production and diffusion of fire and smoke.
Screened LSZH cable used to power motors with frequency converters when full electromagnetic compatibility (EMC) is required.
The cable, made entirely of halogen-free materials, does not emit harmful substances in the event of a fire.
Suitable for both static and dynamic connections (occasional movement) in industrial plants, process lines and machines operating in dry and humid environments.
If stored outdoors, the cable must be protected from UV rays.
Direct or indirect underground laying is permitted.