Low smoke zero halogen - Data transmission and instrumentation
Marcatura
<meters> CE 0987 SPECIALCAVI BALDASSARI LIHCH <formation> IEC 60332-3-24 <lot> <year> B2CA-S1A,D0,A1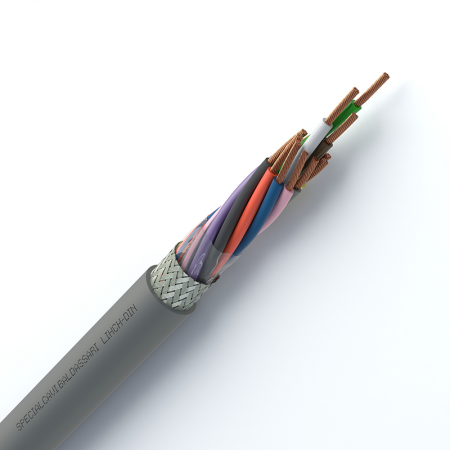 Manufacturing characteristics
Core
Flexible bare copper conductor, class 5
Insulation
LSZH thermoplastic compound, TI6 type
Stranding
Cores twisted/stranded in concentric layers
Screen
Overall tinned copper braid
Outer sheath
LSZH thermoplastic compound, TM7 type
Colours
Cores identification:
DIN 47100
Outer sheath colour:
Grey (based on RAL 7001)
Electrical characteristics
Tensione di esercizio anime
Tensione di esercizio guaina esterna
Certifications



Standard
IEC 60228
IEC 60332-3-24 Cat.C
EN 50363
Reaction to Fire Class
EN 50575:2016 B2ca - s1a, d0, a1
Temperatura minima di esercizio
• Fixed laying -40°C
• Occasional mobile laying w/o stress -5°C
Temperatura massima di esercizio
• Fixed laying +70°C
• Occasional mobile laying w/o stress +70°C
Temperatura massima cortocircuito
On request
• Customized cores identification/outer sheath colour
Laying conditions

Minimum installation temperature 0°

Laying operation bending radius: see technical data sheet
Max tensile stress: see tecnica data sheet

Fixed Laying

Posa mobile occasionale aciclica senza stress
In duct or cable tray

The cable stored outside must be protected from UV rays
Applications
Cable conforms to the requirements in the Construction Products Regulations (CPR EU 305/11), aimed at limiting the production and diffusion of fire and smoke.
LSZH screened cable for data transmission in electronics and computers, for signaling, measurement, command and control systems, and more generally, where there is a need for efficient protection from external electromagnetic disturbance and compact size. It is particularly suitable in sites exposed to fire hazards and where there is a high density of people, such as schools, offices, theaters, hospitals, etc.
Suitable for installation in dry or damp indoor environments, in static or limited dynamic installation (not permanently in motion) where there is no mechanical stress.
If stored outdoors, the cable must be protected from UV rays.
Underground laying is not permitted even if protected.